Message to our Customers
We recognize this health situation has already been disruptive to many businesses across the globe and wanted to share facts about what we at Spectrum are doing to support both our customers and employees.
In response to the current environment, Spectrum has adopted a pledge to create an atmosphere of caring--not scaring.
It's not a hard philosophy to embrace. It's already founded in our core values.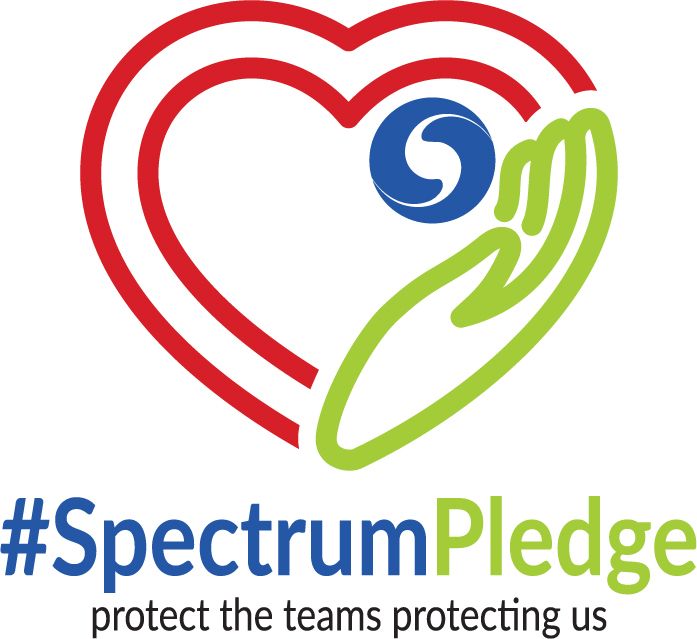 The Spectrum Pledge
We will donate 8,000 pieces of medical scrubs to local area healthcare workers most impacted.
We will slash prices on over 100,000 scrub pieces to below cost so healthcare workers can treat these low cost scrubs as disposable if necessary.
We will offer a 10% savings on our line of Antimicrobial Lab Coats.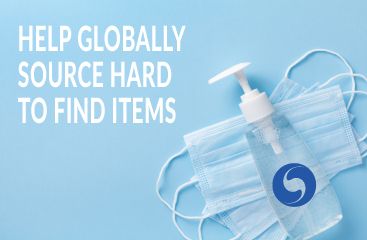 Global Product Sourcing
To ensure our customers' businesses are supported, we are working daily with our suppliers to maintain our current warehouse inventory and scheduled shipments.
We are reaching out to our many trusted global partnerships to help us source hard to find items in demand within the healthcare community. This includes items not currently reflected in our catalog or on our website.
If you are searching for find items, such as hand sanitizer, hospital gowns, mask, etc. , we strongly encourage you to CONTACT OUR TEAM for assistance.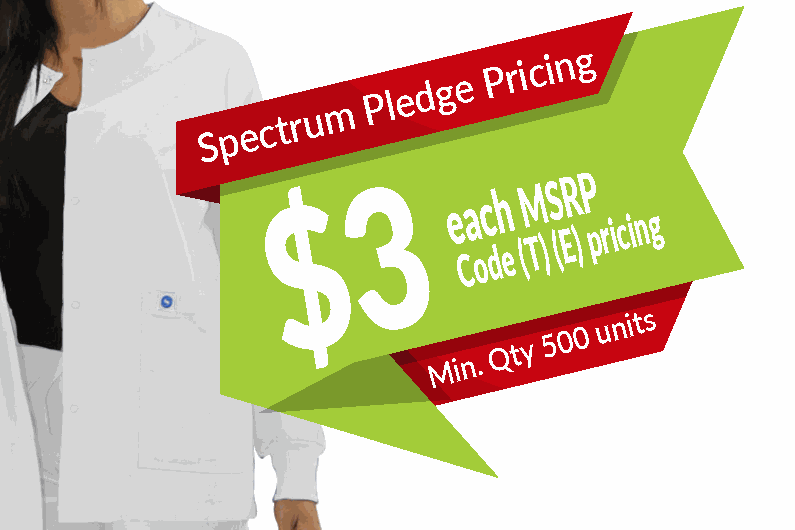 Spectrum Pledge Pricing
In order to insure our busy healthcare workers have an adequate supply of scrubs readily available, we have pledged to make available over 100,000 pieces of scrubs at drastically reduced pricing.
Pricing so low, these scrubs can even be worn and treated as hard to find disposable scrubs if necessary.
These scrubs are new, never worn and still in Spectrum packaging. For logistical reasons, we are limiting this below cost pricing to minimum quantities of 500 pieces.
If you are an approved distributor, you will find these products and available inventory under the Spectrum Pledge category in the Shop section.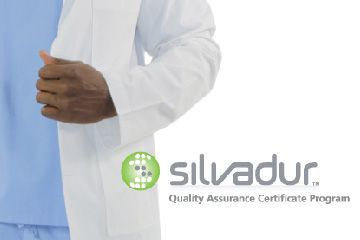 Antimicrobial Lab Coats & Scrubs
10% OFF LAB COATS
All Spectrum lab coats and our new WYND line of scrubs are treated with, SilvadurTM, a patented antimicrobial finish produced by Dow.
This antimicrobial finish adds an extra layer of protection. The SilvadurTM treatment remains active on fabric wash after wash, ensuring longer effectiveness against undesirable bacteria.
We are asking all business to be conducted by phone call or email. Access to our corporate office is limited to essential personnel only and contracted freight and delivery services. We are not scheduling customer appointments or accepting walk-in business at this time.