Do you have the daunting task of buying a stethoscope for the first time? Perhaps, you are just beginning to sell to healthcare clients and want to better educate yourself on which scope works best for the intended use. At Spectrum, we understand the importance of selecting the right stethoscope. Often, the accuracy of your diagnosis depends on it!
It is easy to feel overwhelmed with the range of choices available. With this beginner's guide for nurses and other healthcare professionals, we can help guide you to pick what is best for you or your client.
First Stethoscope as a Student
The need for a stethoscope for students will vary depending on the field of study and specialization―as well as the level of training. For instance, a stethoscope required for a high school student in a HOSA or other healthcare related program will differ from what is needed in a first year nursing program. Either way, if you are not too familiar with stethoscopes, the best rule is to keep things simple.
The two most basic factors to consider before buying a stethoscope are functionality and price. You will also want to understand the parts of a stethoscope, as each of them have specific functions.
Parts of a Stethoscope
The basic parts of a stethoscope are the earpiece, tubing (along with its length and shape) and the chest piece. Nowadays, stethoscopes also come in an electric or standard form. You must know that electric scopes―despite their high-end look―are not suitable for everyone.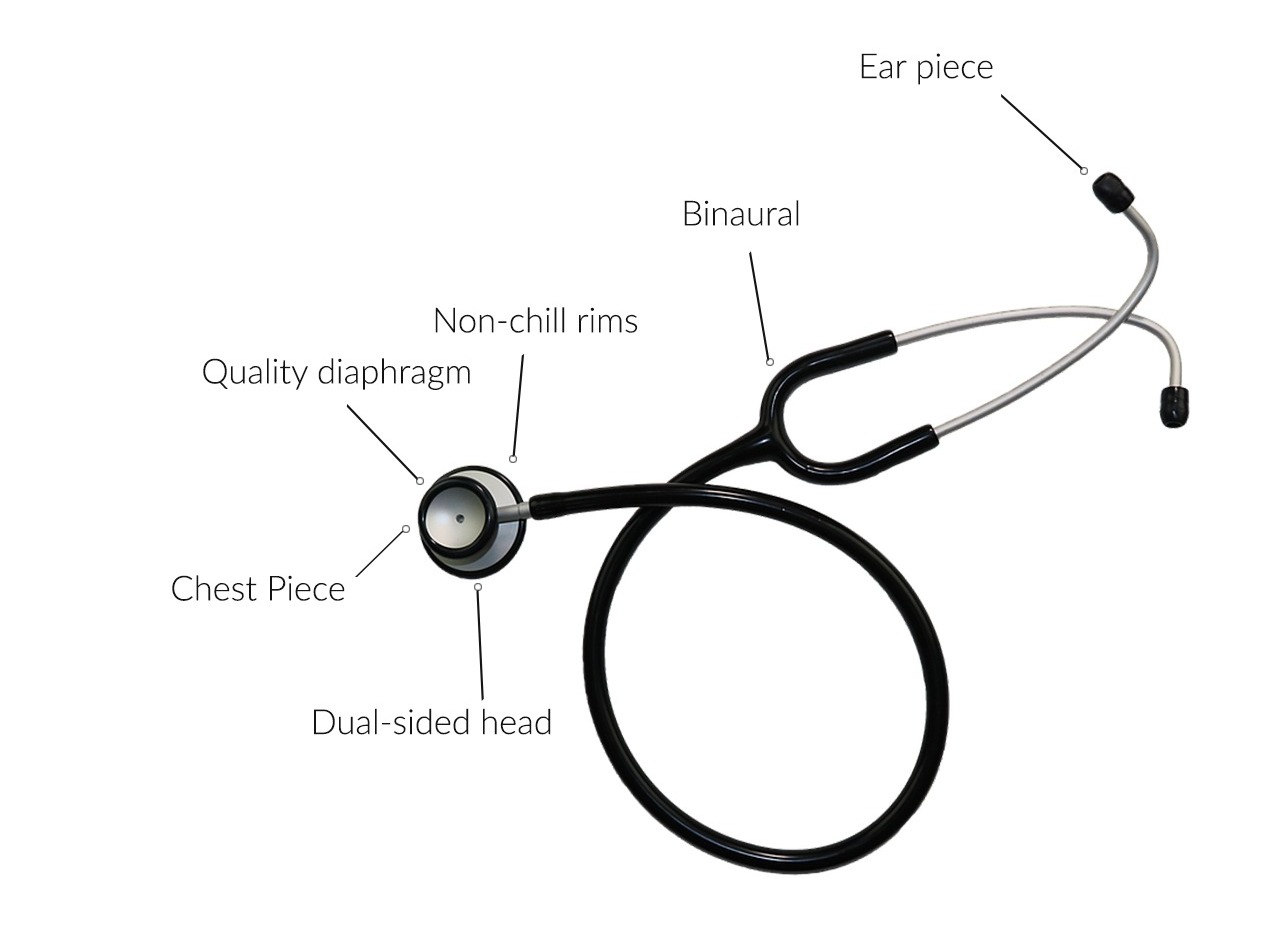 Earpiece
Finding the correct size of earpiece which fits you is crucial. It will determine the quality of sound you hear when you use the stethoscope and your comfort as well. Most brands provide you with a couple of choices when it comes to the earpiece, which can help ensure the right size for you. In case the stethoscope you choose doesn't have the correct size for you, you can buy a more custom-fitted earpiece online for just a few dollars. The ideal stethoscope must have a snug fit rather than a tight fit, which might drown the internal sounds of your patient. 
Tubing and Length
Stethoscopes are available in various sizes, ranging from 22-31 inches (55-80 cm). The most popular length is 27 inches (70 cm). Some medical practitioners do not have any preference when it comes to the length of their stethoscopes. But, bear in mind, 27 inches will allow both the examiner and the patient to retain their personal space. A long tube length is also favorable for you as you will not have to lean forward each time you use your stethoscope.
If you are concerned about diminished sound quality while using a longer stethoscope, it is helpful to note that the National Institute of Health has ruled out this assumption.
You will also want to have a tube made with a thicker material. Thinner material in the tubing will wear out soon and might be prone to cracking. Check for any kinks or bends in the tubing while buying the stethoscope.
Chest piece
The chest piece of a stethoscope consists of a diaphragm and a bell. The diaphragm is designed to be flat and is used to look for high-frequency sounds made by the heart, lungs or intestine. The part of the chest piece is also functional in measuring the blood pressure when used with a sphygmomanometer (blood pressure gauge). You can find some basic stethoscopes with a diaphragm that has a single-sided chest piece.
The small curved side in the chest piece of a stethoscope is known as the bell. This part of the stethoscope is built to pick up low-frequency sounds such as heart murmurs. Pediatric practitioners often use this part of the stethoscope for their patients.
Shape
Almost all stethoscopes have two "ears" and have a single tube that connects them to the chest piece. But other options are also available, depending on your use. If you are taking a blood pressure reading, you will want an oval chest piece to fit easily under the cuff. The shape of the chest piece has no impact on the overall sound quality.
Our Recommended Models
Classic Stethoscope - SM103 
(Recommended for doctors, nurses, practitioners)
Our traditional Classic Stethoscope is crafted of surgical stainless steel and is suited for evaluating adults and children. It contains a binaural and chest piece―as well as latex-free   tubing (preferred by most professionals) that helps to retain its shape. The sound quality is excellent, allowing you to hear both high- and low-frequency noises without having to move your chest piece. Spectrum offers this stethoscope―as well as all of our other styles―in a variety of colors and can personalize the diaphragm for branding or special messaging. For large bulk orders with sufficient lead time, we can make available in your color choice.
Suggested MSRP: $39.98


Spectrum Dual-Head Stethoscope - SM100 
(Recommended for young students and household use)
This economical Spectrum option is ideal for first-time students who are just being introduced to healthcare professions―it also makes an ideal option to have in a well-stocked home medicine cabinet. It offers a dual-sided chest piece to provide quality acoustic sensitivity for both high and low frequency noises. You can listen to, and study heart, lung, and other body sounds in children and adults.
Squeezing together or pushing apart the ear tubes adjusts the tightness of the headset for head size and convenience. Tight, soft-sealing ear-tips adjust to individual ears for a comfortable fit and acoustic isolation. Ear-tips snap firmly to the ends of the ear tubes and for safety reasons, require a little bit of effort when removing.
Suggested MSRP: $10.38


Sprague Rappaport Stethoscope - SM102 
(Recommended for college nursing and healthcare students)
This workhorse of a stethoscope comes with five interchangeable chestpiece fittings to offer the most versatile diagnostic capabilities, making it a great choice for nursing students. It features non-chill rims and a quality diaphragm to provide comfort to the patient when placed upon the skin. The Sprague stethoscope binaural is entirely adjustable, allowing for a totally tailored, angled fit. Pressure can be altered as well; ease by gently drawing the aural canals apart or near to tighten it around the eardrum. The Sprague models use a two-tube configuration. The stereo separation is strengthened because of the two distinct sound channels.
Suggested MSRP: $20.98


Cardiology Stethoscope - SM104 
(Recommended for Cardiologists and Everyone)
Spectrum's top of the line stethoscope is our Cardiology Stethoscope. As the name suggests, it is ideal for cardiologists, but perfect for all uses. It was lab-tested by a NASA scientist who reviewed its performance to be comparable to other well-known name brands priced significantly higher (like way higher!). It offers split chamber tubing and spare earpieces. Soft-sealing ear tips and angled ear tubes connect anatomically with ear canals for enhanced sound isolation and an excellent acoustic seal for ambient noise reduction. Some other features include chest piece and binaural, dual-sided head, internal spring and many other amazing options. From a baby's tiny heartbeat to faint murmurs in adults, this stethoscope allows you to hear sounds clearly and with confidence.
Suggested MSRP: $49.98
Choosing a stethoscope is no easy feat. This medical device is going to stay with you for at least a couple of years. We hope after reading this mini guide, you will be able to make a better-informed choice―and if you still have questions, please reach out to us and we will be happy to help.