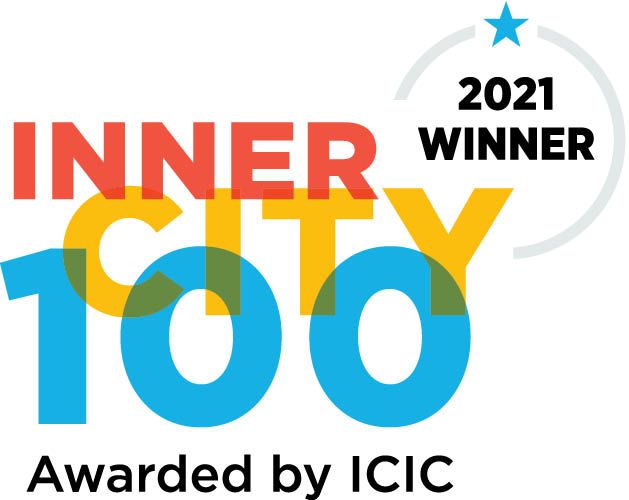 This past week, Spectrum Uniforms shared the spotlight with 100 other companies for the distinct honor of being one of the fastest-growing small businesses in America's under-resourced inner cities.
Since 1999, ICIC (Initiative for a Competitive Inner City) has annually recognized businesses with the Inner City 100 (ICI100) award. Spectrum received the award for demonstrating strong economic growth while seeking ways to positively impact the Houston community. A first-time recipient of this prestigious award, Spectrum was ranked #35 and applauded for its four-year revenue growth rate of 150.10%.
"In light of the economic and financial impact of the COVID-19 pandemic, small businesses are more vital now than ever to local economies and small business ecosystems," said ICIC CEO Steve Grossman. "It is thus important to recognize and celebrate them for their growth and resilience during these trying times. ICIC is always impressed by the tremendous growth achieved by our Inner City 100 winners and inspired by their commitment to actively strengthening their communities."

Spectrum's ability to be a strong resource for medical supplies, medical equipment, and PPE supplies throughout the pandemic was instrumental in helping to be economically viable when so many other businesses struggled. What makes this recognition even more distinctive is the fact much of the revenue Spectrum generated during the height of the pandemic was done at significantly lower profit margins than normal. According to owner and CEO, Rupendra Radia, it was very important for Spectrum to use its global network of partnerships to quickly source the goods and supplies needed—and to get them into the hands of frontline healthcare workers across America. As a former registered nurse, Rupendra fully understood how essential these supplies were and put people before profits. Despite staggering shipping costs and inflated prices along the supply chain, Radia and his team refused to partake in the unscrupulous price gouging seen by others in the industry.

Throughout the pandemic, Spectrum has made large donations of scrubs to organizations like the Texas Medical Center and made donations of face masks and PPE products to hospitals and other organizations. Worthy causes, like The Houston Food Bank and Cajun Navy, also received donations of masks, hand sanitizers, and other supplies. As a scrub supplier, Spectrum owes much of its success to the countless healthcare professionals who commit to a lifetime of caring for others and supports the future of healthcare through scholarships and donations to nursing programs and other healthcare organizations.

You can read Spectrum's full press release here and be sure to visit ICIC's website to learn more about this incredible organization and see the full list of winners.